We are a non-profit organization dedicated to promoting transparency, equity and justice through tracking, observing and reporting thousands of criminal court cases a year.
Court Watch NOLA was founded in 2007 by the Business Council of New Orleans and the River Region, Common Good, and Citizens for 1 Greater New Orleans as a grassroots volunteer effort to bring greater transparency and efficiency to our criminal courts.
Over the past 14 years, Court Watch NOLA has recruited, educated, trained, and supported more than a thousand volunteers in observing and reporting on whether our judges, prosecutors, public defenders, sheriff deputies, police officers, and other criminal justice actors are doing their jobs professionally, transparently, fairly, and economically.
Years Operating in New Orleans
Court Watch NOLA fights for transparency, accountability, and
transformative justice

in the New Orleans criminal courts and beyond.
Court Watch NOLA educates and trains hundreds of local volunteers each year to monitor prosecutors, police, judges, public defenders, the sheriff,  private defense attorneys, and the clerk of court. The daily and visible presence of court watchers' bright yellow clipboards and brightly colored identification cards loudly broadcasts to criminal justice actors that they are being watched and that New Orleanians demand that their courts are transparent, accountable, and just.
To empower individuals through legal education to demand transparency and accountability of public officials
To increase public confidence in the Orleans Parish criminal courts
To increase criminal justice efficiency
To examine aggregate trends in the Orleans Parish criminal courts
To expand our volunteer base to reflect the diversity of all New Orleanian communities
To act as an objective agent to institute best practices in criminal justice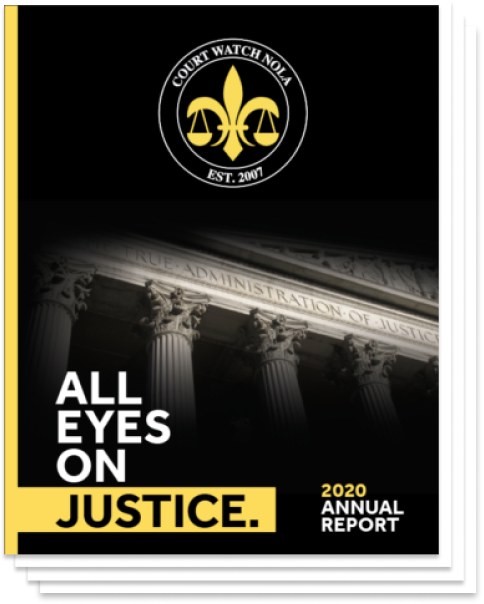 Our 2020 Annual Report explores the topics of history, accessibility, and efficiency of the Orleans Parish criminal courts and the larger criminal justice system.